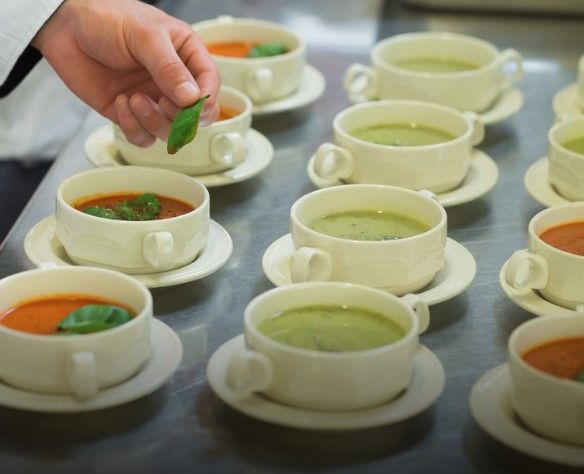 We have gotten several requests recently for Carnival cruise line soup recipes, so we put together a few of their unique and delicious soup recipes below.  We have not personally made them all yet, since we post hundreds of recipes from all different cruise lines (& I am not a huge fan of chilled soups which Carnival serves a lot of,) so we'd would love to hear your feedback!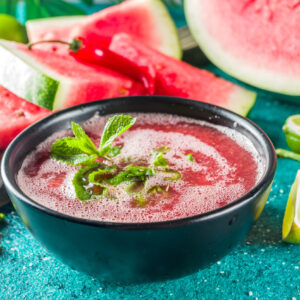 Carnival Cruise Line Watermelon Soup
Ingredients
4

cups

seeded watermelon chunks & juice

2

tbps

lemon juice

2

tbps

chopped fresh spearmint

Fresh spearmint springs for garnish

1

tbsp

sugar

1/3

cup

white wine

1 1/2

fresh ginger root

sliced- 1/8" thick
Instructions
In a blender, blend all ingredients except the ginger.

Add the ginger slices and chill the soup for several hours.

Remove the ginger slices.

Serve the soup garnish with mint sprigs.
Chilled Mango Soup
1 Qt. Mango Ice Cream
1 1/2 cups heavy cream
6 cups milk
2 oz. fresh ginger
Peeled mint sprigs
1 mango chop
A small slice or two of fresh ginger
Combine all ingredients (except mint) and blend at the last possible moment. Served in chilled soup cups and garnish with a mint leaf.
West Indian Pumpkin Soup
1 cup onion quartered
1 cup leeks
4 cloves fresh garlic
1 cup pumpkin puree
1 quarts Chicken Stock
1/2 cup half-and-half
1/2 cup heavy cream
Salt & Pepper to Taste
Dash of nutmeg when serving
Heat oven to 300. Place onions, leeks, and garlic in shallow roasting pan & drizzle with olive oil. Bake for 30 minutes. Let vegetables cool and then puree in blender.
Bring the chicken stock, pureed vegetables and pumpkin puree and bring to a bowl. Turn heat to low and simmer for 45 minutes. Add half-and-half, salt and pepper to taste and simmer another 30 minutes. Finish with heavy cream and a dash of nutmeg.
Serves 10-12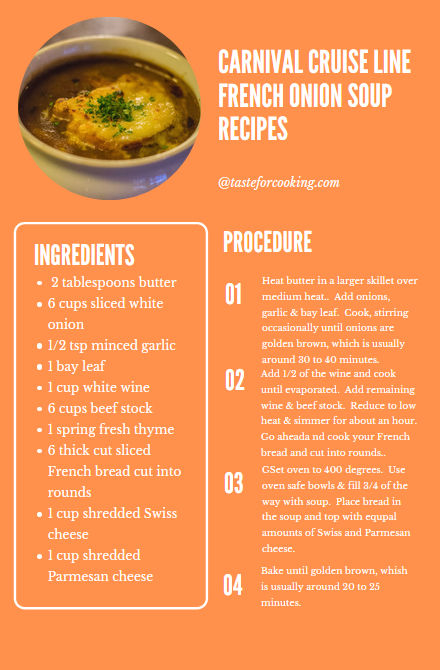 Strawberry Bisque
3 c strawberries, washed and hulled
1 ½ c water
¾ c sugar
3 T lemon juice
1 t grated lemon peel
1 ½ c red wine
1 c. sour cream
fresh mint leaves
Combine strawberries, ½ c water, and sugar in a blender. Cover and blend the mixture until pureed. Stir in lemon juice, peel, 1 c. water and wine. Stir in sour cream until blended. Chill for several hours before serving and garnish with mint.
Mushroom Soup – Serves 4
You can find this soup in Carnival Cruises Prime Steakhouse specialty restaurant. They serve it in a smaller cup, hence the name cappucino, but we serve it in large bowls for dinner with crusty bread and an arugla salad.
I want to note that when we prepared this soup we used a mix of various mushrooms including button, shitake, baby portobello, oyster, and criminie. I also used a little white wine with the onions initially, then added the garlic and mushrooms with the butter. I did both. I have also swapped to beef broth and cooked the onions with a splash of red wine and found it had more depth of flavor. There are also variations online whether to add the thyme and parsley during the cooking process or at the end. I added some thyme while the mushrooms were cooking, and then added finely chopped thyme & parsley to serve the soup with extra ground pepper per bowl, along with a little sauted mushrooms and lastly croutons for texture.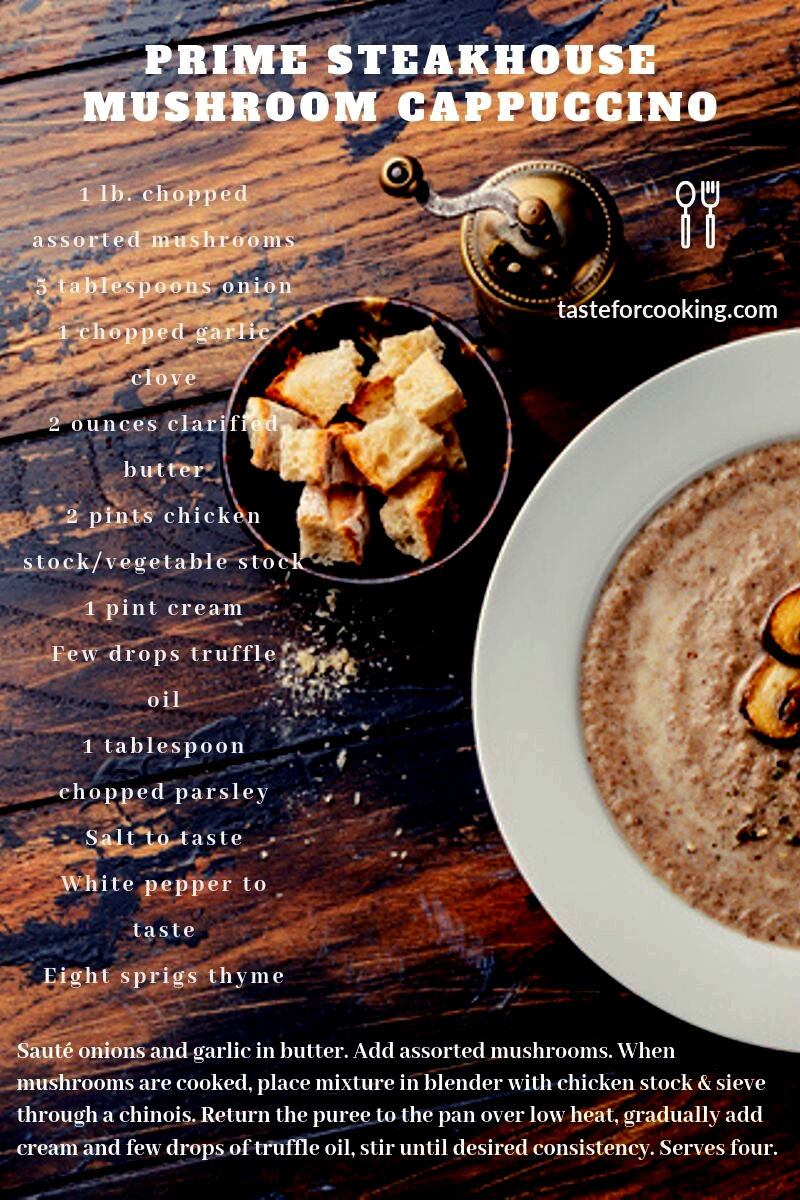 Chilled Avocado Soup—Serves 12
3 cucumbers, peeled, seeded and diced.
1 clove minced garlic
1 tsp ground cumin
1 tsp ground ancho chili (or chili powder)
1/4 cup chopped cilantro
juice of 2 limes
1 quart of low-fat buttermilk
12 oz plain yogurt
5 ripe avocados
2 cups chicken stock or water
salt
pinch or more of cayenne pepper
pinch of dried mint
Puree avocados with lime juice in a blender or food processor.
Put puree into large bowl and whisk in yogurt, buttermilk, and chicken stock.
Add chili powder, garlic, cumin, cayenne and mint.
Stir in the diced cucumber.
Taste for salt (at least 1/4 tsp)
Garnish the soup with cilantro.
Chilled Cucumber Soup

1 lb cucumbers peeled & minced
1/4 cup finely chopped onion
1 pint milk
1/2 pint heavy cream
1 clove garlic finely chopped
1 1/2 tsp fresh dill
Salt & pepper to taste.
Mix all ingredients in blender. Chill 4 to 6 hours before serving.
Serves 4
Caribbean Pepper Pot Soup—Serves 6
2 TBSP Vegetable Oil
1 Cup chopped onion
1 teaspoon minced garlic
3 cups sliced okra
1 cup chopped red pepper
1 cup choped green pepper
1 cup diced potatoes
1 cup diced yams
1 cup quartered and sliced plantain
6 cups chicken stock
1 cup unsweetened coconut milk
Spaetzle
1/2 lb flour
1/2 cup water
1 egg
1 1/2 teaspoon chopped fresh parsley
2 tablespoons chopped cilantro
Heat oil in Dutch oil; add onions and garlic. Cook until tender. Add okra, red and green peppers, potatoes, yams and plantain. Saute until lightly browned. Add stock and coconut milk; bring to a boil. Reduce heat to low; simmer 2 to 3 hours or until soup thickens. Season with salt and pepper.
Meanwhile, for Spaetzle, combine flour, water, egg and parsley to form a smooth dough. Bring a large pot of water to a boil. Pass dough through a spaetzle mill or colander with large holes. Cook about 3 minutes or until cooked through. Drain; rinse with cold water. Add Spaetzle to soup. Garnish with Cilantro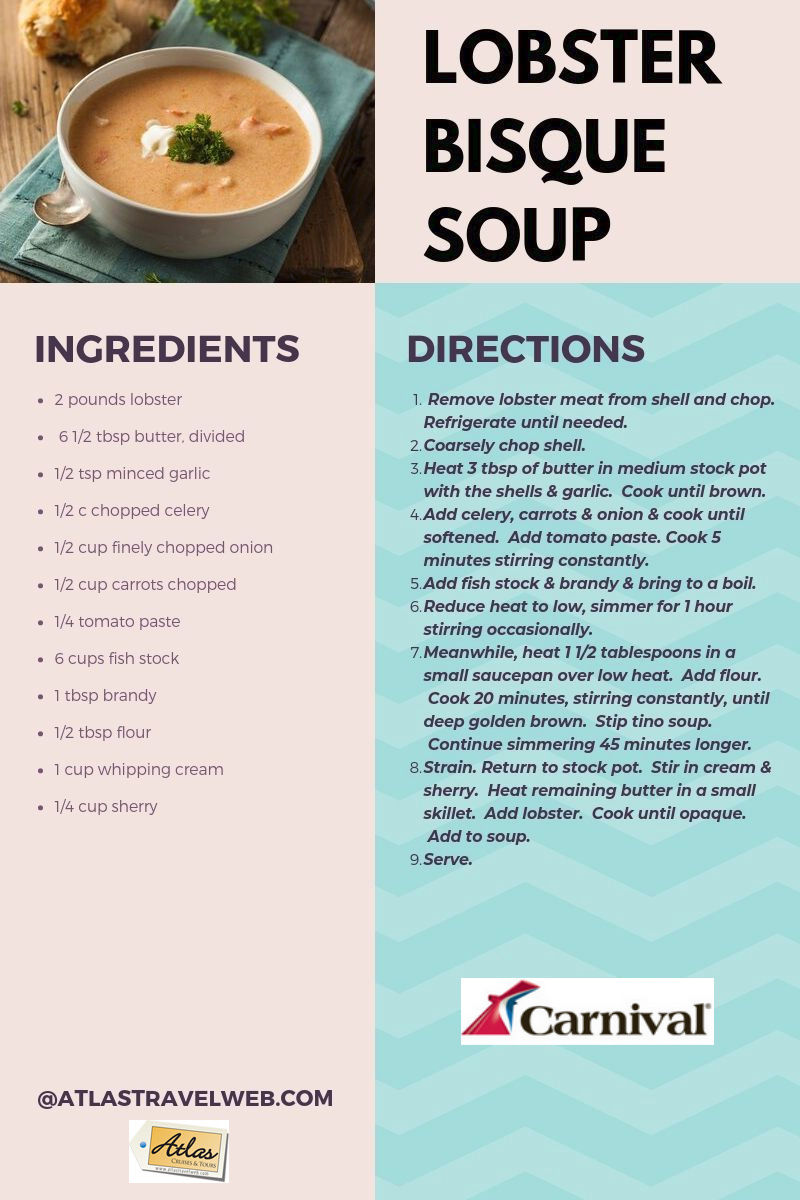 Ready to take a cruise and taste all the delicious food first hand? Browse Carnival cruise line itineraries, dates & prices. If you are not quite ready to make a reservation, but have an idea of when your next vacation will be, we suggest using a free cruise price tracker so that you can monitor the sailings you are interested in without having to make any commitments.